Details

Published: Thursday, 01 August 2013 00:00
Hits: 7368

Most of all, the Concord's 5340z digital camera impressed me with it's ease of use. The instruction manual, although brief, was easy to read and understand. Because of the idiot proof settings and relatively simple features, I became a pro at using the camera in no time.
The 5340z has an internal memory of about 16MB, which only holds about six or seven pictures at the highest resolution, which you would definitely want to use so you can crop and editing your pictures later. Therefore, an additional SD memory chip is a required accessory for this camera for all but the simplest applications. I used a 256MB chip which provided over 150 high resolution pictures and about 35 minutes of 4 megapixel motion video. Not bad.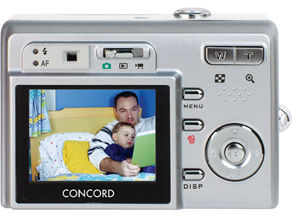 An important note about this camera is that there are absolutely no manual settings, save for a forced flash if needed. This alone makes it a more casual use camera and not one to really take award-winning photo's with. When turned on, the camera is ready to use in about three seconds if you're not using the flash. The flash, unfortunately, is where this camera falls down. It takes at least ten seconds for it to recharge after each shot which provides for a huge inconvenience when trying to capture a certain moment at any important event. I found that by the time the flash recharged the people were no longer in their desirable "Kodak moment". This would obviously not be a problem in well-lit areas but as we all know those ideal picture-taking scenes are few and far between.
I had a blast using the Motion Picture setting. It captured exactly what I needed and although it doesn't allow you to zoom in and out while filming it still gets the job done. While pictures are worth a thousand words, video spells it out for you. In playback mode, the audio seemed a bit inaudible, but when viewed on my computer, the sound was a dream.
The camera boasts a 2" LCD screen which is really nice when it comes to reviewing the pictures to see if there are closed eyes, blurry images, or red eye. Speaking of red-eye, this camera has a red-eye reduction feature that does a pretty good job for the most part but when it comes to people like me who are more prone to such nuisances, there's really not much that can be done about it.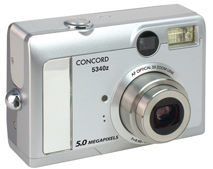 The picture quality is good but not great. Some photos that really should have shown up clear and sharp, ended up just slightly blurry. Keep in mind, however that this was definitely not the case for every photo and was probably due to a shaky hand or the auto focus, which can never really be impeccable. Because this camera runs on regular AA batteries, the life of those batteries is sadly very short. I found that I could take about 100 or so pictures and review each one before having to change the batteries. Although this might seem a bit disappointing, it is pretty typical of all digital camera's to suck up battery power quickly and I guess you could view it as a convenience that it's able to run on AA batteries that are so easy to get your hands on.
Transferring the pictures and video onto my computer through the USB port was a breeze. The computer recognized my camera immediately and through windows explorer I was able to drag and drop my photos into the desired folder. Concord also provides you with Windows 98 compatible software that helps with transferring, viewing and editing the photo's and video which is also very easy to use. Overall, if you're not looking to take a photo for the cover of the next Home & Garden magazine, this 5 megapixel camera is definitely a good one to have, especially for the price. It's easy to use, lightweight and can fit in a jacket pocket or purse quite easily. Oh ya, and the pictures it takes aren't too shabby either.
You can buy the Concord 5340z on Concord's website for $199.99. For more information, visit:
http://www.concord-camera.com/products_detail.aspx?id=180?id=180