Details

Published: Friday, 08 March 2013 20:45
Hits: 6667

The Gadget Gals took two of the youngest and newest writers to Disneyland with us in 2003 and both submitted articles for our website. Below thier individual experience and perspective on Disneyland fro the eyes of a 9 and 12 year old who have been there before.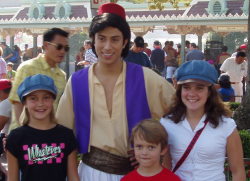 By Lauren from Nevada, age 12 - My Disneyland trip was a blast. The first person I saw was Aladdin. We took pictures with him. We went on a lot of rides. The first ride we went on was "Dumbo". Most of my family came except my dad. I went on the purple one with my cousin Megan. The best parts of my trip were: riding The "Haunted Mansion", Tom Sawyer's Island which had a really cool tree house and caves, canoeing, going on "The Pirates of the Caribbean", meeting the Disney characters in Toon Town, and being with my family. The worst part was that all the roller coasters were closed except "The Mattihorn". All the closed rides were "Thunder Mountain", "Space Mountain", and "Splash Mountain". We went on "Indiana Jones", a jungle tour, and "Tarzan's Tree House". After that, we went shopping. I got a ring and a T-shirt with Tinkerbelle on it. Then we went on a ride called Star Tours. It's a Star Wars ride. As we left ToonTown, we ran into "The Disneyland Parade". We saw all the Disney characters you can think of. Then we went on "Small World" and went home. I can't wait to go to Disneyland again! By the way, It's great that Disneyland has handicap accessible lines for the rides since my grandma came with us and needed a wheelchair.

By Chelsea from Nevada, age 9 - On my trip to Disneyland, I went on most of the rides except Splash Mountain, Thunder Mountain, and Space Mountain, because those rides were closed. But the Mattihorn was open, even though we didn't get to go on it. The 1st ride we went on was the carousel. The 2nd ride we went on was Dumbo. We went to Disneyland because my cousin, Megan had turned 4 years old, and every time a kid in our family turns 4, we go to Disneyland. This was my third time going to Disneyland. It was a lot of fun. These are the people that went: Me, of course, and my sister, brother, my grandma, my aunt and uncle, my other aunt and uncle, my 4 cousins, and my mom. My favorite ride is the Mattihorn. My least favorite ride is Small World. My mom says that pineapple spears and pineapple juice should be available at all hours, not just between noon and 4:00, especially as it was such a hot day, when we went. My Uncle Rich made me try a mint julep, which I did not like very well. I also liked three other rides: Pirates of the Caribbean, and the Haunted Mansion and the Indiana Jones ride. They were fun, too. That was my trip to Disneyland.