Details

Published: Friday, 14 February 2014 17:00
Hits: 7199

Two years ago this time, we were delighted to spend a full week in New Orleans touring the sites, visiting the attractions, eating the food, and sharing this wonderful city with the visitors and people who live in it. Having the memories and smells fresh in our minds, we were personally devastated to watch the aftermath of Hurricane Katrina as this beautiful character-rich city was flooded due to a break in the levee.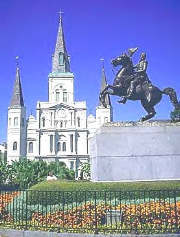 During the past two years, Gadget Gals has made several small contributions to the American Red Cross and the Salvation Army to do our part to help out with this disaster, which is still affecting the lives of tens of thousands of displaced people. We made these donations as a way of saying thanks to the dozens of New Orleans residents and businesses who hosted us and fed us and taught us so much about this city during our visit. We hope that others who share our love for this delightful city will also contribute to the reconstruction effort.

The road ahead for the folks in New Orleans is going to be long and difficult, but we are looking forward to returning again to the "new" New Orleans after the city is rebuilt and tourism is welcomed back.