Details

Published: Thursday, 14 February 2013 17:00
Hits: 14844

The Dell 3200MP is practically unbeatable. This DLP projector's lightweight design makes it easy to carry between home and your business or school. Adequate brightness and a proficient remote control make it well suited for presentations to groups, while its high contrast ratio and reasonably low noise level meet the requirements for home-entertainment.
An included sturdy carrying case further enhances its portability. While the projectors problems with image uniformity and grayscale levels keep it off the very top of our "BEST" list, it's a better overall deal for the price than other comparable projectors. If you can't afford the more expensive projectors, this is the next-best alternative.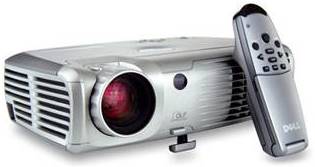 The projector itself is simply designed. The lens sits flush with the front of the device; a protective lens cap would be nice. The remote's receiver is also in front. All connectors feed out the back panel. You adjust the projector's position with a front-elevating foot and a rear-tilting foot.
A typical, X-shaped menu navigation array on the 3200MP's top is flanked by a power button on the left and warning lights for temperature and lamp life on the right. The navigation buttons double as adjusters for keystoning, source detection, and signal synchronization, but the identifying icons are hard to figure out.
In addition to its native XGA resolution of 1,024x768 pixels, the 3200MP can accommodate signals ranging from VGA (640x480) to UXGA (1,600x1,200). The projector can also handle a wide range of video formats, including NTSC, PAL, and SECAM, as well as the 720p and 1080i protocols of HDTV.
The projector throws out a large image. We needed a distance of only 6.5 feet to display our standard, one-square-meter screen. If you need to fit the image to a particular screen size, you will appreciate the Dell's 1.2X optical zoom lens and its 12-foot-long AC cable.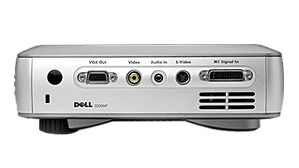 In many ways, the Dell 3200MP is similar to the Optoma EzPro 737. It has the same array of input connectors, an identical remote control, and an M1-DA-to-VGA cable so that you can use the 3200MP as a desktop monitor. You also get cables for composite video, component video, S-Video, RCA audio, and mini-pin to mini-pin connections. All of the cables have Velcro wraps for tangle-free storage--a nice extra.
The remote control has everything you need, from a handy trigger switch that emulates a left-mouse button to a pair of buttons specifically designed for navigating through presentations. A large, rocking button controls cursor position. A small door conceals an array of projector controls, including volume, anti-keystoning, and digital zooming.
The 150-watt lamp inside the 3200MP will probably need replacement after 2,000 hours of use. Replacement lamps currently cost about $320 at Dell.com, which works out to a relatively low consumable cost of 16 cents per hour.
In DisplayMate tests, the Dell 3200MP performed well. The measured brightness of 1,288 ANSI lumens is one of the best scores of the group, and it's commendably close to the projector's advertised brightness of 1,300 lumens. Dell claims that the 3200MP has a contrast ratio of 1,800:1. We've never seen a projector attain anywhere near that lofty value, but our actual test result of 483:1 was the best contrast rating for the group. We also like its rock-steady images. Chromaticity tests showed superior color accuracy. Blues have a slight shift to green, but the greens and reds are quite close to optimum values.
Despite these superior scores, the 3200MP was plagued by various problems. Its brightness varied from corner to corner; the resulting image uniformity score of only 63 percent, is one of the lower scores of the group. In our grayscale test, the projector could resolve only 225 out of 255 levels, and some of the gray levels had a greenish tint. The 3200MP also tends to run hot--very hot. And shutdown time was on the long side, at 121 seconds.
The 3200MP comes with an adequate two-year warranty. The warranty includes Dell's Advanced Express service, under which the company will try to supply a replacement projector by the next day. The warranty can be extended to three years for $135. As with most projectors, the lamp is guaranteed for just 90 days.
The 3200MP comes with a high-quality, printed user manual that includes 14 pages of international telephone-support numbers. Phone support is available 24/7 for the life of the product. Dell's Web site offers additional support, including a small knowledge base of projector-related issues, a color electronic copy of the user guide, and direct e-mail access to support staff.

For more information on this product visit www.dell.com.