Details

Published: Wednesday, 13 February 2013 17:00
Hits: 7601

No more running cables or tripping over speaker wires. Logitech's new 315 watt wireless speaker system offers an instant surround sound solution for both the office and home environments.
The rear independent speakers can be placed anywhere within 28 feet of the control center, and since each speaker has its own wireless receiver and amplifier, they can placed as far apart from each other as is desired. Also, since each wireless speaker two redundant wireless data streams, wireless interference from other devices will not cause sound loss.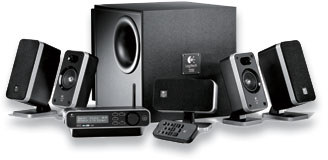 We believe that the Logitech Z-5450 Digital speakers are ideally suited to a home gaming environment, for people who want to feel like they are "inside" the game. Ideal for any entertainment environment, the system includes inputs for up to seven multimedia devices, which makes it versatile for use with a PC or in a living room entertainment center, or both. The source inputs include TWO digital optical inputs, ONE Digital coaxial input, ONE 6-channel direct input (3 stereo-mini connectors), and ONE analog stereo-mini input on the side control center.

One drawback of this or any wireless speaker solutions is that the rear speakers still require a power cord. Therefore, for those who were thinking of just slapping the speakers up high on a wall still need to think about how to hide the power wires. Also, the rear speakers cannot be placed outside of the room as any obstructions significantly limit the range of the wireless transmission.

The Logitech Z-5450 Digital Speakers retail for $499.99. For more information, visit:
http://www.logitech.com/index.cfm/products/details/US/EN,CRID=2177,CONTENTID=10928