Details

Published: Friday, 27 December 2013 17:00
Hits: 7856

There are many solutions on the market today for taking your iPod along with you in the car, but this little 'gadget' may be the easiest, most convenient solution. What sets this unit apart from it's competitors is the fact that it is also a cradle for your iPod, and a charger.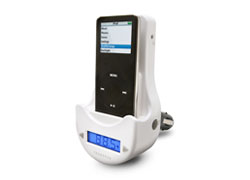 Your iPod rests snuggly and comfortably in the TransPod cradle (which simultaneously charges it), which you plug directly into your car's 12v power port (aka: cigarette lighter). You then tune the TransPod to a radio frequency not being used by an actual radio station, and tune your car's stereo to the same frequency. The TransPod can use the full FM spectrum (other FM transmitters only give you a handful of choices). It's that easy. No mounting brackets (unless you want them), no dangling wires sprouting from your dashboard. Your iPod is secure in it's cradle. The TransPod even allows multiple positions for the cradle to provide you with the best possible access to your iPod controls.
Additional features include: Auxiliary Output (for a cassette adapter or 1/8 " mini plug cable), LCD screen and digital tuner, and it's iPod Mini compatible. Pricewise, the TransPod usually retails for $90-100. Competitors with similar FM transmitter solutions (excluding the Charging and Cradle features) sell for $30-50. Not wearing down the battery on my iPod, and having to deal with wires coming out of my car dash, and knowing my iPod won't be sliding around the car when I turn a corner or have to slam on the brakes make this product a hands-down choice.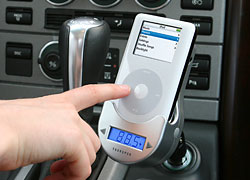 Quick Facts:
Play, charge and cradle your iPod with one simple, secure device
Fits ALL dockable iPods - including new 5G video iPod and iPod nano
Transmits iPod's music to your existing radio already in your car
Uses any available FM frequency from 88.1 to 107.9
Charges iPod's battery while in use
No install necessary - simply plugs into any available Auto Power Outlet
Available in White, Silver and Black
4 assignable Presets let you jump to commonly used frequencies
TransPod Input lets you connect and transmit ANY other MP3 player or game system
iPod Line Level Output available for car based Auxiliary Inputs or Cassette Adapter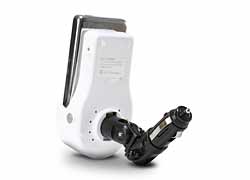 You can buy the Transpod FM on DLO's website for $99. For more information, visit:
http://www.dlo.com/products/tp_Prod.tpl?command=showpage&cart=1135941457519708