Details

Published: Thursday, 14 February 2013 17:00
Hits: 7769

On the very top of our 2006 Gadget Gals favorite gift list is the Victorinox USB Knife by Swissbit of Switzerland. This product marks the first time that a "real" Swiss Army Knife has been equipped with a USB Memory, and the very first Victorinox knife to find universal appeal among both men and women.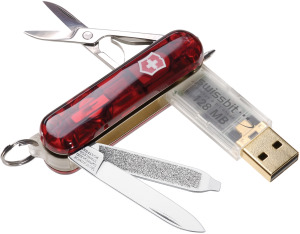 I have had this item in my purse for less than a week, and I have already found occasion to use almost every feature. Twice, I used the pop-out pen when I couldn't find a pen to leave a note. I used the LED light to install a screw on my computer (although I wish the light was white instead of red). I used the USB drive to copy a file to take to Kinko's, and the knife to open a package, and the scissors to cut a tag off new clothes. The only feature I haven't used is the nail file, but I have used the screwdriver on the end of the nail file.
The USB 2.0 thumb drive on the Victorinox comes with between 128 MB and 2 GB of memory, and it is removable from the main unit. I had to remove mine in order to insert the drive into the back of my computer, and it was a snap (although somewhat less easy to reinstall). I imagine that the ability to remove the USB drive is also important when you want to take the device on a plane (keep the USB drive with you, but check the rest), although there is a plane version with no knife or scissors.
The Swissbit SwissMemory Victorinox is available now at retail outlets. For more information, visit:
http://www.swissbit.com/haupt.asp?spr=2&nv=2261