Details

Published: Friday, 08 March 2013 00:00
Hits: 7619

Having lived in Las Vegas for most of my life, I have seen just about all of the big production shows. Without question, Celine's show tops my list of personal favourites. She is one of those rare performers who, within minutes of the start of the show, can pull you right in to her intimate world on stage. Intimate is a good description. The farthest seat in the house is no more that 150 feet away, but she still manages to bring you in closer. Her voice is truly phenomenal.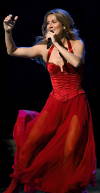 It's a joy to just sit and listen to her, and watch her perform. But, and when you add her fabulous production values and the set designs, and, then her haunting music, you'll be spellbound. I know I was.
"A New Day" is a wholesome, family-suitable show at the Colosseum at Caesars Palace in Las Vegas. The ticket prices are on the high end, but when you stop to consider that you'll be witnessing one of the most spectacular performers of our time, it's well worth the price.
For tickets call: 1-877-4CELINE (1-877-423-5463)