Details

Published: Friday, 09 August 2013 11:10
Hits: 8101

From start to finish Cirque du Soleils "La Nouba" is saturated with riveting, jaw-dropping performances. The show is housed in a glowing "Big Top" theater in the heart of Downtown Disney, Florida. The nostalgic edifice sets a playful and enchanting mood right from the beginning. To my surprise and delight, the auditorium is much smaller than I expected, having a capacity of 1671 people making for a very intimate setting; almost any seat is a good seat in this house.
"La Nouba" consists of about 9 odd and truly breath-taking main "acts".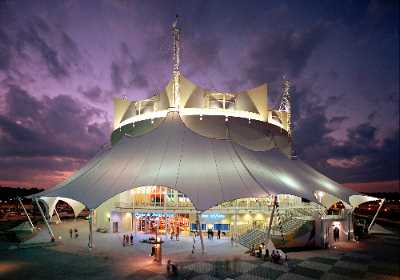 The make-up and costumes of each performer are perfectly ornate and entirely original. From the German Wheel to the High Wire to the Flying Trapeze, this show has everything to captivate the senses. The unique performances are only matched by the entirely live music and vocals that envelope you throughout the entire show. This show is entertaining for all ages and is a must see if you're in the area. Shows are Tuesday through Saturday at 6 & 9pm.Cirque du Soleils "La Nouba" is arguably one of the most entertaining and mind boggling shows I have ever attended. It captures you from the beginning and never lets you go.