Details

Published: Saturday, 10 August 2013 00:09
Hits: 9047

From the moment I laid eyes on Panasonic's CF-W5 Toughbook I was in heaven. Having previously owned a 17" 12lb laptop I constantly had to lug the thing around from place to place. But now working on Panasonic's new ultra portable notebook, I am happy to say "Out with the old and in with the wonderfully new".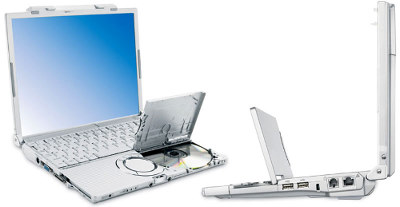 At a price tag starting at $2,260, this eye-catching notebook boasts a magnesium alloy case giving it a rugged yet sleek exterior. When opened up, this notebook continues to impress with its innovative wheel-shaped touchpad allowing for convenient scrolling and its hidden optical drive shell underneath the right wrist rest. The small keyboard takes hardly any time at all to get used to and then you're up and running.
To my pleasure, this laptop's beauty is hardly skin deep. It is built with a 1.20 GHz Intel® Core™ Solo Processor, 60GB (160GB max) shock-mounted hard drive for bumps along the road, an integrated DVD burner, and a 12.1" XGA Active Matrix color LCD display. It has also been built to withstand 220lbs of weight as well as an almost 12 in drop (in panasonic lab tests).  Now I'm not saying you should feel free to be completely careless with this wonderful piece of equipment, but it does ease the mind knowing that you don't have to handle it like a baby chicken. Best of all, at a weight of only 2.7lbs (3.1 with the power adapter) and a batter life of more than 8 hours, this meticulously engineered notebook is ready to go anywhere you take it. Panasonic has done an impressive job with blending form with function. It is truly "Pretty. Tough."