Details

Published: Saturday, 29 June 2013 17:00
Hits: 7041

The Kyocera Lingo M1000 is the first cell phone with a full QWERTY keyboard to be offered by Cricket.  There are a few other features that I was impressed with like the "key lock" feature so when I slip it into my pocket it stays in the off position.  It also has bluetooth, a 1.3 megapixel camera, a speaker phone and an alarm clock/stop watch with a count down timer.   The design is really fun and modern, great for teenagers.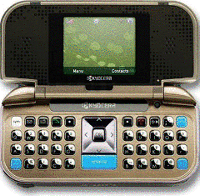 The phone also has a special material on the back so it doesn't slide around, which makes it  more durable. 
Since the camera only has a 1.3 megapixel resolution, the photos can be a bit "pixelly".  The battery life is shown as 150 hours of standby and 3.25 talk, which is a too short for a teenager, as we are  always forgetting charge our phones. 
Overall, I thought this was a great phone, it's fun, it's stylish and it's useful.