Details

Published: Tuesday, 10 September 2013 00:37
Hits: 8531

The Nokia E62's big-button full QWERTY keyboard makes it one of our favorite PDA phones, and while the processor is a bit slow and the operating system takes a some getting used to, we think that the best-in-breed web browser more than makes up for this phone's short-comings. What makes this web-browser so amazing is their large screen and the ability to surf full-sized web pages while zooming and panning with the greatest of ease.
Because the phone lacks a camera, we think that business users are the primary target for this new PDA phone. The installed email solution will handle multiple email accounts and let you view and edit a variety of attachments, making it a perfect solution for business-on-the-go.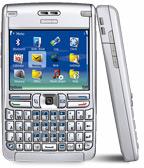 Sound quality is great, and the voice memo feature is stellar, although you may find yourself accidently hitting the voice memo button (on the side) during phone calls, thus accidentally recording your phone calls. The speakerphone is plenty powerful and clear for even the noisiest environments.

For the first-time user, the placement of the zero key and asterisk and pound sign keys will take a bit of getting used to, but after playing with this for awhile, you will realize that this placement is how they achieved such large buttons on the keyboard, so you wonder why all phone keyboard makers don't do it this way. Also, when you have to place a phone call to a toll-free "name" such as 800-856-GALS to reach Gadget Gals, you will not be able to find what the numeric equivalent for GALS anywhere on this phone.

Like many other modern phones, you will be annoyed at the placement of the volume control on the side, and you will no doubt find yourself talking on the phone and pressing the down-volume button till you can't hear the caller. We haven't found out how to turn the volume buttons OFF on this phone, but we hope that this feature is there. Also, we were somewhat frustrated when we put the phone in our purse and it turned off when it rubbed against something hitting the on-off button on the front -- this happened several times causing us to miss calls.

Pros: Web browser, big keys, thin

Cons: Slow processor, no camera, new OS

More Info: http://www.nokiausa.com/phones/E62/0,7747,,00.html