Details

Published: Thursday, 14 February 2013 17:00
Hits: 10912

When Verizon announced that they would be adding the LG Migo VX1000 to their impressive 2005 line-up, it raised some eyebrows. Clearly aimed at the 10-and-under crowd, the phone was also promoted as a solution for the elderly, touting how well the phone works with hearing aids. Our reaction wasn't quite as enthusiastic.
At 2.4 ounces, the phone is small, great for little hands. In fact, we can think of a six year old daughter of one of our writers who would probably go totally bonkers over this phone. However, just about every other child we can think of is a picky eater and would probably be just as picky about the phone they had to carry with them to sleepovers.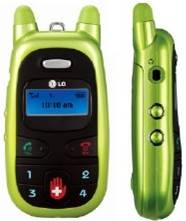 The range on the phone doesn't appear to be stellar, so we weren't sure if the two little antennas that stick out the top are there for technical reasons, or just to make the phone look more like a bug. Also, while we like the "concept" of kiddy-phones, we were disappointed that this one is coming to market without an option for a prepaid plan. Since there is no way to restrict incoming calls, the little tykes could still ring up quite a bill if they started giving their number out to friends.
With the newness of this category and competition from FireFly and TicTalk, we don't really know how the Migo will fly. If you are on a Verizon family plan, then this is probably the phone for the kids (the little kids – don't even "try" this on your teenagers). If not, then you might like the games on the TicTalk from Cingular, or a prepaid plan on the FireFly.
For more information on this product visit www.lge.com.