Details

Published: Thursday, 07 November 2013 17:00
Hits: 8686
The LG CE110 is a sporty, lightweight, slim phone targeted at a young generation of cell phone user who are expecting new features in a flip phone. Most would consider the LG CE110 to be a "starter phone" due to its low resolution photo quality. This basic camera phone is a pretty affordable phone. It has some nice features such as Bluetooth and instant messaging.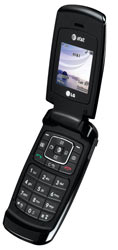 The LG CE110 has clear call quality, but you can still tell you are talking on a cell phone. The LG CE110 has room for 1,000 contacts, which is nice for you if you know a lot of people. It has a lot of features that come in handy in your every day life like: Vibrate mode, Speakerphone, Voice recorder, Text and multimedia messaging, Instant messaging, Alarm clock, Calendar, Notepad, Calculator, Tip calculator, World clock, Unit converter, and "flight mode".
Pros: it is a lightweight, sporty, affordable phone. With some nice convenient features.
Cons: it has limited photo quality with no external camera button.
For information on this phone visit:  http://us.lge.com/products/model/detail/mobile%20phones_select%20by%20carrier_att_CE110.jhtml